Management of construction works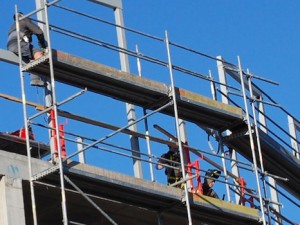 We have significant amount of in-house specialists that allows us to complete construction projects without compromising quality.
We manage and implementation of all types of construction works as a general contractor. We believe that quality implementation of the project is possible only if a significant part of the labour force is comprised of in-house specialists of our company.
"Experience has shown that for the best possible construction work, at least 60% of our own resources (our own employees) are necessary, and other specialists may be contracted for particular work."
This is the principle we adhere to on an everyday basis, and it lets us achieve the desired quality, meet contractual deadlines, and effectively control the course of the construction works.
We have set the goal to achieve, over a period of three years, meeting Scandinavian construction sector standards, the globally recognised effective and environmentally-friendly construction practices.
Being well aware that the construction process is related not only to the creation of new value or ensuring "new life" to the structures after renovations, but that it also can cause harm to environment, we have introduced many principles to ensure environmentally friendly construction processes.
To ensure environmentally friendly construction:
we transfer heat insulation materials for recycling;
we rationally plan the project implementation to effectively apply construction machinery, minimizing operational hours, and thereby also minimizing  CO2 emissions;
we carefully assess the waste manager we contract to collect and transport debris from the sites (transport to modern requirements, a rational approach to transportation of debris, etc.), so that this process generates the least CO2 emissions possible.
Key projects
As general contractors we have built and renovated the buildings in the Mūkusala Business Centre at Mūkusalas Street 42, carried out functional reconstruction of the Latvian Institute of Aquatic Ecology into an office building with laboratories at Voleru iela 2, the renovation and insulation of apartment houses at Palmu iela 4, Eizenšteina iela 67, Ādažu iela 1-40, and about 60 other buildings. Please see more about our accomplishments in the Section Completed projects.