Protecting the Environment is everyone's duty
Human impact on the environment is as old as mankind. Our built environment shapes our society and economy, affecting the way we live, work, entertain and the way we travel.
Construction is one of those sectors of the economy with the help of which man creates new values, as well as granting new life to historical buildings, creating better living and working conditions.
Aware that the construction process in a greater or lesser extent causes damage to the environment. PRO DEV team from the very beginnings of the company existence has paid great attention to every single link in the chain – each resource should be used efficiently, thereby reducing the negative impact on the environment.
Environmentally friendly construction is the approach to the design, construction, operation and maintenance of buildings, which aims to reduce the pressure of building as a residential unit on the environment and natural resources. Environmentally friendly construction aims at the creation and responsible maintenance of a healthy artificial habitat, based on the efficient use of natural resources and environmental principles.
Regardless of the structure dimensions, complexity and the needed amount of work, we use construction practice that is designed and focuses on to maximize environment-friendly and sustainable value creation. So far there is none specific and universal formula, but there are principles on which environmentally friendly construction is based. We are implementing these principles in everyday life, it is a big challenge because of finding a balance between the traditional construction practices, building construction and sustainable environment, which would be energy efficient and ensure that the construction process and handed over for exploitation building as little as possible harmed the environment.
To ensure environmentally friendly construction PRO DEV has implemented the following principles: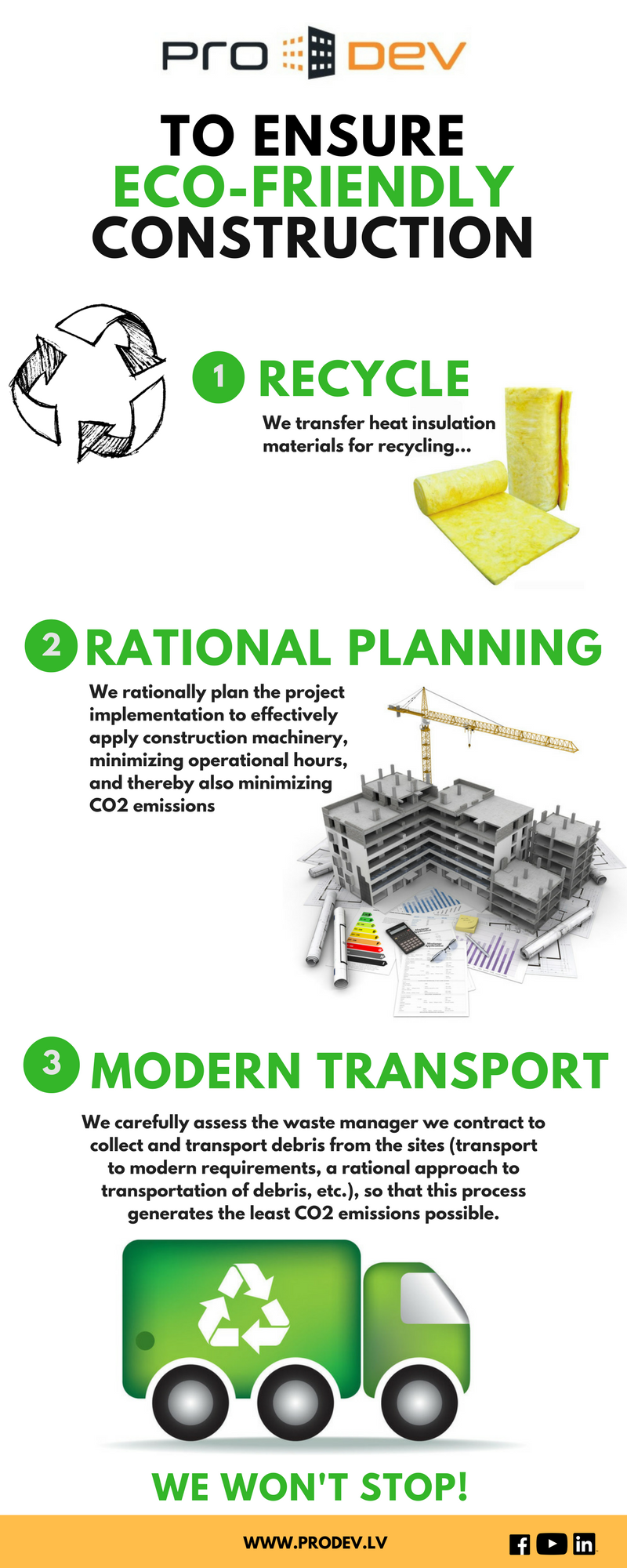 PRO DEV team cares about Latvia, its people and the environment. We are sure that every Latvian citizen wishes to live in an even more advanced, better organized and cleaner environment. To that goal, we must strive all together.
Apart from the rational planning, recycling and use of modern transport we also have been engaged in the development of the heat insulation programmes from the very beginning, when information on problems was gathered, properties classified, their condition audited, priority works and methodology set in order to achieve optimal heat savings. In result we have standardised the renovation of buildings and treat heat insulation as a production process: standardised units, verified materials, which we import ourselves, our own scaffolding, etc. In Latvia there are still many uninsulated housings, so that one of our top priorities in the new European Union funds planning period is to help Latvian citizens insulate houses attracting co-financing.
We won't stop at our achieved level, on the contrary we will continue with even greater fervor to learn from the Scandinavians, as well as to educate the public on environmental issues. We continue to improve the existing and implementation of new principles, which are rapidly becoming closer to Scandinavian standards.
---
27.01.2017